Flowfit Ludlow & District Bowls League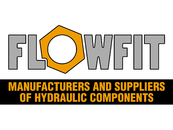 Flowfit Ludlow & District Bowls League
Ludlow League Champions 2017 - Burway
News Report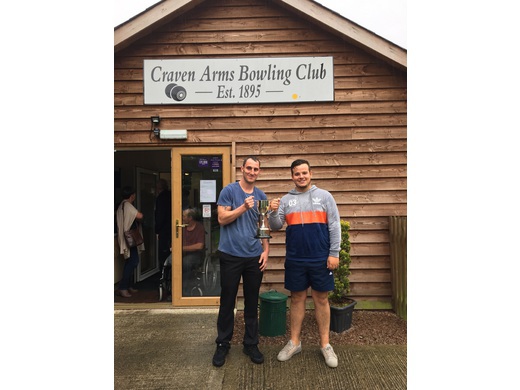 Craven Arms Bowling Club was the host of the 2017 Flowfit Ludlow and District Bowls League Doubles Competition and saw a total of 23 teams enter trying to get there name on the trophy. There were some cracking games in the early rounds, most notably a thrilling all Burway tie where Nick Lewis and Kiah Roberts took on Wayne Rogers and Len Lewis and saw Lewis and Roberts win 21-18 in a real ding-dong battle.
The first semi final was between Ludlow Castle's Dave Wilding and Simon Lane take on the Burway brothers Chris and Kevin Dovey. Nothing could separate the teams in the early stages as they shared shots throughout at 6-6, 8-8, 12-12 and 15-15. The Dovey's edged into an 18-15 lead and looked to be heading towards the final as they were lying game on at one stage but Lane drew a great shot to keep his team in it. With the block in his hand, Wilding produced some great leads on a curly mark over the top of the crown and they ended up running out 21-18 victors.
Semi final number two was between Burway's Nick Lewis and Kiah Roberts and the Craven Arms/Ludlow Castle pairing of Ben James and Carl Bowen. Lewis and Roberts were in no mood to hang about and were 10-0 up within three ends. Try as they might, James and Bowen just couldn't recover from that and as soon as they got it back to being 16-11 down, Lewis and Roberts took it up a gear and scored the five shots they needed in the next two ends and won comfortably 21-11.
The final promised to be good and with the heavens starting to open, it was all about who could adapt to the wet conditions the best. Lewis and Roberts again started well and led 7-1 and 14-6 and looked likely to cruise to success. Wilding and Lane didn't back down though and kept battling but after getting to 14, Lewis and Roberts got the two shots they needed to win the trophy for the first time by winning 21-14. The pair were also two thirds of the League Triples winners from earlier in the season and Roberts would have completed the Grand Slam of league titles had he not have been defeated by Wayne Rogers in the final of the League Merit. Further proof that Roberts is one of the stars of the game in the County at the moment.
The committee of the Flowfit Ludlow and District Bowls League would like to thank Craven Arms Bowling Club for hosting the competition and providing a great surface to bowl on only two days after the green had been flooded. Special thanks to all the helpers who provided food and drink throughout the day and to all that helped marked cards, taped ends and supported the competition throughout.
Thanks
Steve Burmingham
League Secretary
Results
Preliminary Games
Anthony and Mark Rogers 21 Lawrie Jones and Tony Partridge 12
Adam Dovey and Jolyon Partridge 21 Steve Burmingham and Liam Dovey 15
Dave Wilding and Simon Lane 21 Mark Bull and Graham Prince 10
Alice and Phil Baker 21 Neville Huffer and Danny Tantrum 12
Mark Gittins and Tony Cowdale 21 Iris Singleton and Doreen Edwards 6
Chris and Kev Dovey 21 Lillian Payne and Paul Davies 19
Graham Lane and Sarah Desborough 21 Bert Morris and Terry Lucas 7
First Round
A Dovey/J Partridge 21 A & M Rogers 16
D Wilding/S Lane 21 A & P Baker 20
C & K Dovey 21 M Gittins/T Cowdale 17
G Lane/S Desborough 21 John Oakley and Roger Harper 0
Roy Crowther and Duncan Pressley 21 Tom Harrington and Nathan Baker 17
Nick Lewis and Kiah Roberts 21 Wayne Rogers and Len Lewis 18
Ben James and Carl Bowen 21 Lee Wilding and Ben Foxall 13
Toby Foxall and Jesse James 21 Eileen Huffer and Daphne Tantrum 11
Quarter Finals
D Wilding/S Lane 21 A Dovey/J Partridge 18
C & K Dovey 21 G Lane/S Desborough 10
N Lewis/K Roberts 21 R Crowther/D Pressley 12
B James/C Bowen 21 T Foxall/J James 14
Semi Finals
D Wilding/S Lane 21 C & K Dovey 18
N Lewis/K Roberts 21 B James/C Bowen 11
Final
N Lewis/K Roberts 21 D Wilding/S Lane 14
Follow the site to get the latest news and results straight to your email